Welcome to the MWOTRC!
---
Upcoming Meetings:
For our July program Rob Farr will present "The Other Side of the Pond" about the British Broadcasting Corporation.
For our August program, Brian Belanger, Curator of the National Capital Radio and Television Museum will present "The Murrow Boys" - about the outstanding team of reporters Murrow recruited to cover WWII and who moved on, with Murrow, to become an award-winning team in peacetime.
For our September 7 program (note change in date) - TBD - (Date moved up a week to avoid conflict with Mid-Atlantic Nostalgia Convention).
September 15, (Saturday) will be our annual club presentation at Mid-Atlantic Nostalgia Convention. Time, subject matter TBA
Our October program - TBD
For our November program - Sandra Pitts-Malone will give a presentation on Sheldon Leonard
Our December 8 (Saturday) meeting will be our Annual Holiday Party. Location TBA
---
Meeting schedule: Regular meetings are held at Trinity Episcopal Church, Columbia Pike and Wayne Street, Arlington VA.(Please see map below.)
We meet at 7:30 PM on the second Friday evening of every month, except June and December, when we meet Saturday noon at a local restaurant (location TBA). In September, we hold our meeting at the Mid Atlantic Nostalgia Convention (MANC) in Hunt Valley, Md. See our Links page for MANC details.
If you live in the Washington DC area or are planning a visit, why not attend one of our meetings? Members, guests, and the general public are invited to all meetings, which include various demonstrations and presentations.
Please browse through our site to learn more about us, or contact us for more information.
Click the map below for a Google map and directions.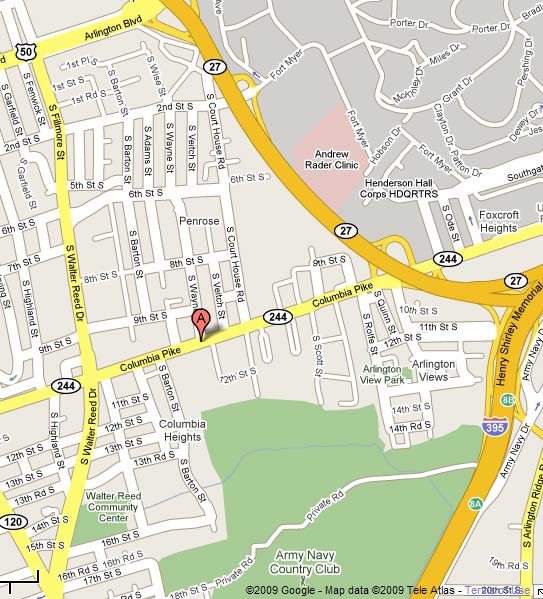 BE SURE TO VISIT OUR LINKS Page from time to time.You'll find interesting web sites like this one, Old Time Radio Themes - a great resource for the music themes of those old favorite shows.
See our News Archives at:
News from 2014
News from 2009-12
News from 2006-7
News from 2005
News from 2004
News from 2003-2002