Welcome to the MWOTRC!
---
Upcoming Meetings:
The August program is called "what's your driver's I.Q.?" Sandra Pitts-Malone will present excerpts from various radio shows focused on driving tests and problems with cars. The program will be restricted to radio presentations although at least one led to the same script on an early tv sitcom! This presentation brings out the humorous side of those learning to drive and their flustered relatives or friends!
The September meeting will be a "15-Minute Episode Night." The evening will be devoted to humorous sketches, including "Raising Junior," a 1930s husband-wife comedy that Edgar Farr Russell, one of our members, directed at a national OTR convention in Newark, NJ. Also scheduled: "Baby Snooks" and "Easy Aces".
September 16 is the Mid-Atlantic Nostalgia Convention. The club will be presenting "Chicken Heart," an episode from the "Lights Out" horror drama series. In a lighter vein, attendees can also participate in a radio quiz for candy bar prizes.
The club's presentation will be at noon, Saturday, September 16 at the Delta Hotels Baltimore Hunt Valley hotel, 245 Shawan Road, Hunt Valley, MD. The club appearance is part of the 3-day Mid-Atlantic Nostalgia Convention. Daily admission is charged. For more information, see MidAtlanticNostalgiaConvention.com.
On September 30, club member will perform at the Library of Congress National Audio Visual Conservation Center, 19053 Mount Pony Road, Culpeper, VA. The presentation will include "Raising Junior", "Baby Snooks", "Easy Aces" and "Chicken Heart". The show begins at 7:30 and attendance is free. But arrive early. The auditorium fills up quickly. (This will be the third time we have presented shows there.)
---
Meeting schedule: Regular meetings are held at Trinity Episcopal Church, Columbia Pike and Wayne Street, Arlington VA.(Please see map below.)
We meet at 7:30 PM on the second Friday evening of every month, except June and December, when we meet Saturday noon at a local restaurant (location TBA). In September, we hold our meeting at the Mid Atlantic Nostalgia Convention (MANC) in Hunt Valley, Md. See our Links page for MANC details.
If you live in the Washington DC area or are planning a visit, why not attend one of our meetings? Members, guests, and the general public are invited to all meetings, which include various demonstrations and presentations.
Please browse through our site to learn more about us, or contact us for more information.
Click the map below for a Google map and directions.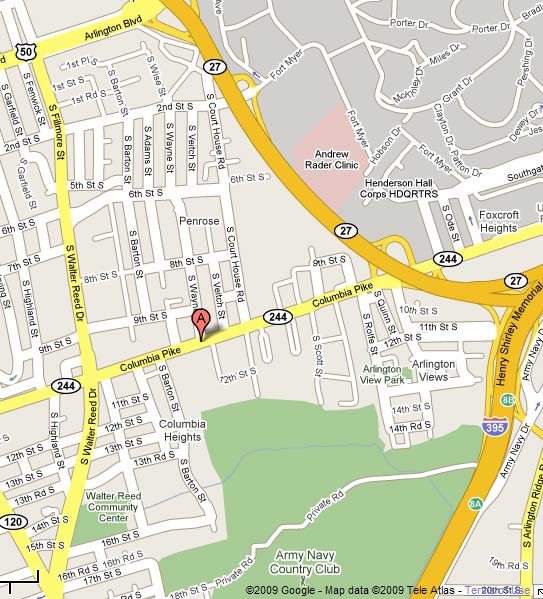 BE SURE TO VISIT OUR LINKS Page from time to time.You'll find interesting web sites like this one, Old Time Radio Themes - a great resource for the music themes of those old favorite shows.
See our News Archives at:
News from 2014
News from 2009-12
News from 2006-7
News from 2005
News from 2004
News from 2003-2002